Topeka Farm Show
January 9 - 11, 2024

For more than 30 years, Tradexpos has proudly brought together thousands of farmers, ranchers, and industry exhibitors under one roof for the Topeka Farm Show. In 2024 the show offers more opportunities to learn, grow, and network than ever before. The Tradexpos team is proud to feature over 700 booths filled with industry innovating exhibitors at the Topeka Farm Show!
Featuring free daily horsemanship clinics, free parking, admission, and health care programs, the Tradexpos team expects the 2024 Topeka Farm Show to be the biggest yet! Make sure to grab your friends, family, and neighbors and head to Topeka!
Constantly evolving to meet the varied demands of exhibitors and attendees, we look forward to seeing you at the Topeka Farm Show, January 9 - 11, 2024!
Tradexpos is committed to offering attendees and exhibitors a great farm show experience! We continue to identify the changing needs of both our exhibitors and attendees. We design the Topeka Farm Show to serve those ever evolving needs. Join us for the 2024 Topeka Farm Show!
Show Hours
| | |
| --- | --- |
| Tuesday | 9 AM – 5 PM |
| Wednesday | 9 AM – 7 PM |
| Thursday | 9 AM – 4 PM |
Make Plans to Attend Our FREE Horse Training Clinics!
Horse training expert, Scott Daily hosts Horsemanship Clinics each day of the Topeka Farm Show! You'll want to make time to stop by Domer Arena to see him in action and meet even more exhibitors!
Horsemanship Clinic Session Schedule for 2024
| | |
| --- | --- |
| Tuesday, January 9 | 11:00 AM & 2:00 PM |
| Wednesday, January 10 | 11:00 AM & 5:00 PM |
| Thursday, January 11 | 11:00 AM & 2:00 PM |
Register for Grand Prize Giveaway!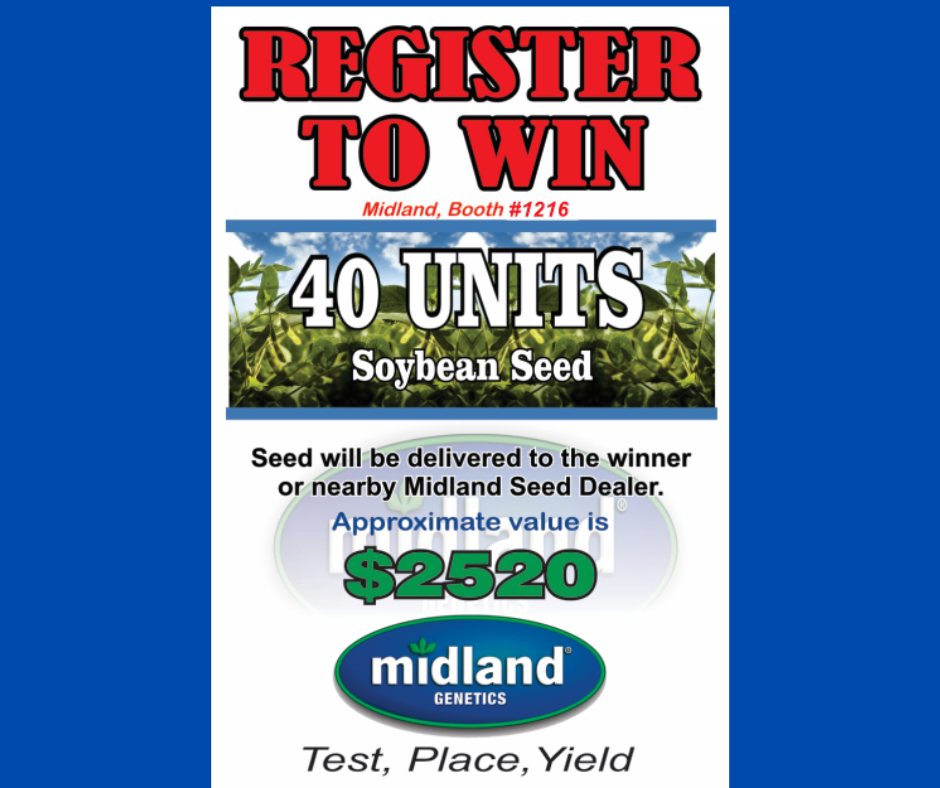 Schedule Your Lodging Accommodations Now!
With all the excitement you'll experience at the Topeka Farm Show, it will be important for you to have a great night of rest. Tradexpos is excited to partner with Hilton Garden Inn to offer you exceptional accommodations at an excellent rate!
The Hilton Garden Inn offers a special farm show rate of $109.00 plus tax for affiliates of the Topeka Farm Show during their stay. This special rate includes free continental breakfast daily, free parking, and free Wi-Fi. You'll love the friendly staff, well maintained rooms, indoor saltwater pool, and hot tub.
Rooms are limited! Reserve your stay at The Hilton Garden Inn now by calling 785-350-2069 and mentioning that you are part of the 2024 Topeka Farm Show!
or Book online, here!
Check out the Topeka Farm Show Exhibitors!
Download 2023 Exhibitor Listing
2024 Kansas Soybean Expo Schedule
The Kansas Soybean Expo is scheduled for the second day of the Topeka Farm Show, Wednesday, January 10th, 2024.  You can find more information here.
Get Directions to the Topeka Farm Show
One Expocentre Drive
Topeka, KS 66612
Supporting the Ag Industry
Tradexpos uses a variety of advertising tools to promote the Topeka Farm Show including radio, supplements in farm and ranch publications and area newsprint advertising. The show also features onsite daily broadcasts by farm radio and ag networks. Tradexpos partnership with the High Plains Journal extends our advertising reach to their 45,000-plus readers! This has helped the Topeka Farm Show become a leading show in the Midwest! The High Plains Journal also publishes the beautiful show guides for this event. 580 AM WIBW Radio and Farm Director Kelly Lenz are longtime supporters of the Topeka Farm Show and are live at the show each day. Attendees can tune into 580AM on their radios to receive daily event updates during the Topeka Farm Show!
Exhibitor Resources
Exhibitor Contract
Showcase Your Products and Services at the Topeka Farm Show
Decorator Rental Order Form
Looking to secure furnishings or other rentals for your exhibition space?


Check out the Topeka Farm Show Floor Plan
Check out the Topeka Farm Show exhibitor layout.
Unable to find the resources or information you are looking for?
Reach out to Tradexpos, Inc.!
We'd be more than happy to locate the information you're looking for to ensure you have the best experience possible.