North Star Ag Expo
July 25 - 27, 2023
Make plans to attend the North Star Ag Expo at the Ritchie Bros. Auction Site in Medford, Minnesota July 25th – 27th, 2023!
For over 30 years, Tradexpos has proudly brought together Ag communities throughout the Midwest, anually producing four well respected and highly attended indoor trade shows. The Tradexpos Team is excited to announce the addition of an outdoor show! The North Star Ag Expo is sure to be full of opportunities for any ag related company or consumer. We're searching for the highest quality agricultural industry representatives and service providers to be part of the 2023 North Star Ag Expo.

The Ritchie Bros Auction site provides 30 acres of exhibit space on crushed asphalt designed to carry heavy equipment and drain quickly. Rain or shine, show attendees and exhibitors can count on solid sturdy ground under their feet and equipment. Conveneintly located just off of I-35, the venue provides free parking and optimal visibility for the North Star Ag Expo. We're sure that attendees and exhibitors alike will receive a uniquely valuable show experience! Grab your family, friends, and neighbors and the latest and greatest modernizations in farming and ranching.
Admission is FREE.
Show Hours
| | |
| --- | --- |
| Tuesday | 9 AM – 5 PM |
| Wednesday | 9 AM – 5 PM |
| Thursday | 9 AM – 4 PM |
Seminars
Hosted by Linder Farm Network and University of Minnesota Extension
Linder Farm Network and the University of Minnesota Extension Agricultural Services will be hosting free informative seminars in the Ritchie Bros climate controlled auditorium.
Linder Farm Network is offering two exciting mornings filled with discussion and information around the current markets.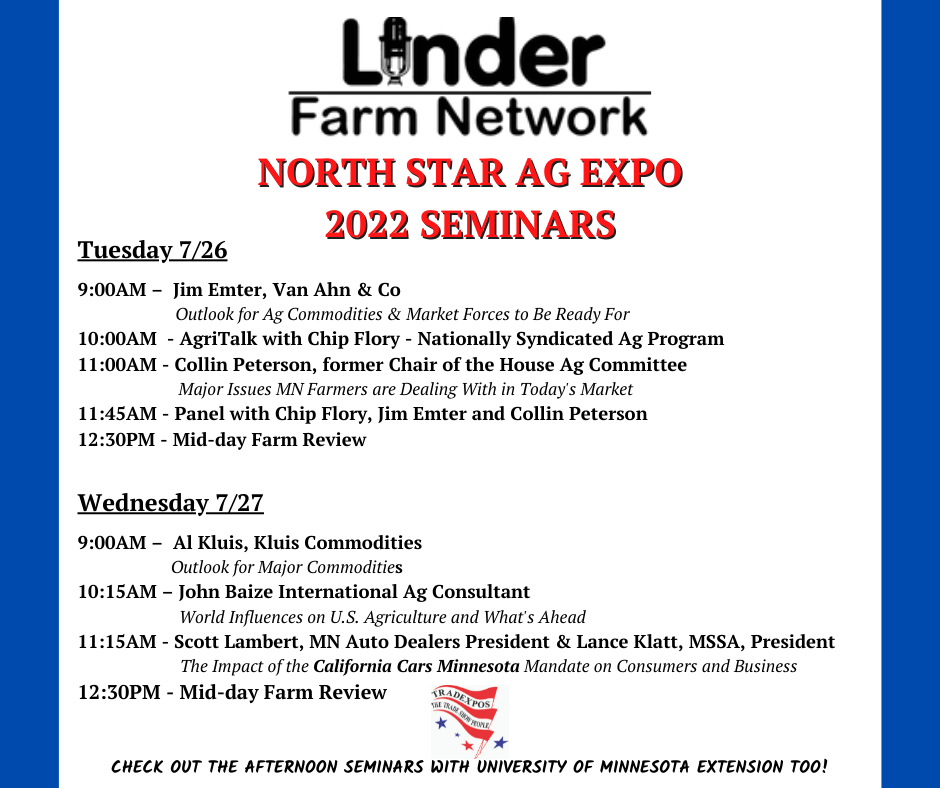 University of Minnesota Extension Services is on site both Tuesday and Wednesday afternoon with seminars to help you manage all aspects of your agricultural operation!


Register for the Grand Prize Giveaway!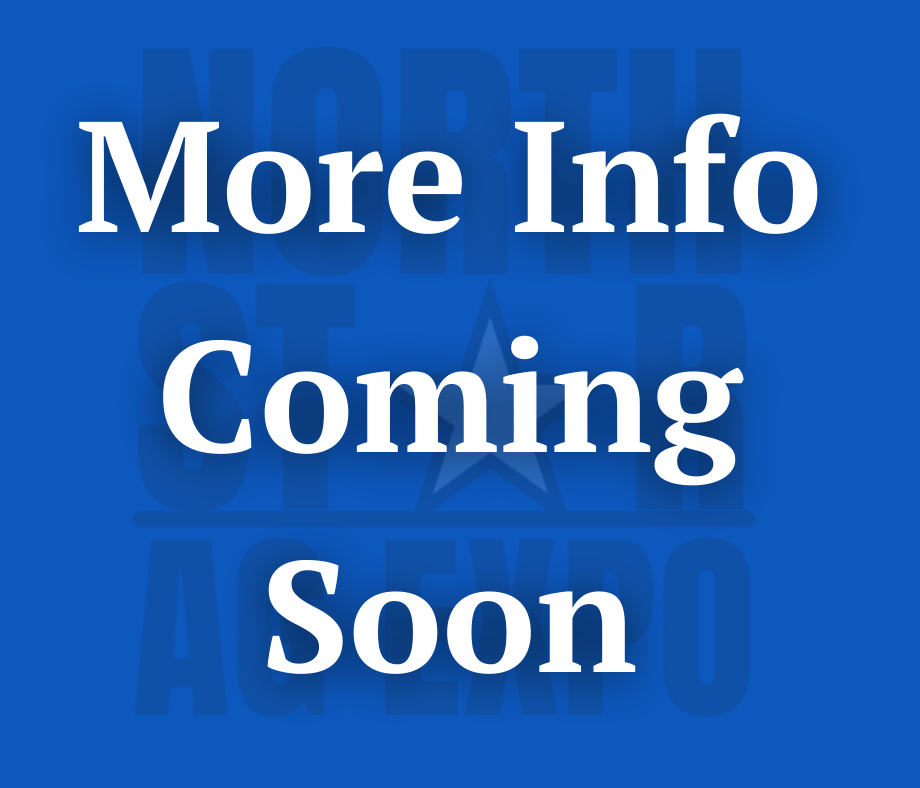 Schedule Lodging Accommodations Today!
After a great day outdoors at the North Star Ag Expo, enjoying the welcoming accomodations of the Baymont Inn, Owatonna will be at the top of your list.
The Baymont Inn, Owatonna is offering a special rate of $96.90 plus taxes for affiliates of the North Star Ag Expo during their stay in conjunction with the show. This special rate includes free breakfast daily, free parking, and free Wi-Fi. The Baymont has recently been remodeled and boasts a pool and a full service bar on site, allowing you to relax in style!
Rooms are limited! Reserve your stay at the Baymont Inn, Owatonna! Book your stay by calling 507-455-1142 and mentioning that you are part of the 2023 North Star Ag Expo!
Check out the North Star Ag Expo Exhibitors!

Get Directions to the North Star Ag Expo
6000 West Frontage Road
Medford, MN 55049
Supporting our Industry
The 2023 North Star Ag Expo is sure to draw many farmers, ranchers, and agribusiness managers from the region to compare and purchase agricultural equipment and services. Sign up for a booth today and be part of our North Star Ag Expo!
Trade shows play a vital part in the marketing plans of companies, and the buying decisions of farmers and ranchers. At Tradexpos, we work hard to create a professional atmosphere, and attract serious agricultural leaders to our shows.
Exhibitor Resources
Exhibitor Contract
Showcase your ag related products and services at the next
North Star Ag Expo
Decorator Rental Order Form
Looking to rent furnishings or other items for your exhibition space?
Check out the North Star Ag Expo layout

Check out the North Star Ag Expo exhibitor layout.
Unable to find the resources or information you are looking for?
Reach out to Tradexpos!
We'd be more than happy to locate the information you're looking for to ensure you have the best experience possible.